We are thrilled to announce some big changes and improvements to Edublogs!
Our focus this summer is to raise the bar in what we offer so that we continue to be the best blogging, ePortolio, and class website service for teachers and students around the world.
To help us reach this goal, we start by bringing you…
Unlimited Student Blogs!
Previously, each Pro account could only enable extra features on up to 50 student blogs. But we know many teachers can have well over 100 students at any given time.
Student blogs will be able to access premium themes, use our new iOS mobile app, embed videos and other code, and the full range of privacy options.
In addition, students will be able to fully manage the look and feel of their blogs, but won't be able to change the privacy and moderation settings you set for them.
The NEW 'My Class' Feature
This is the big one. Now that you can have unlimited students on Edublogs, you need a good way to manage them all!
You will find a new 'My Class' menu item near the top of your blog's dashboard.
From here you can manage the privacy and moderation settings on all student blogs, get a list of pending comments and posts, and more.
As soon as a student blog is added to a class, it will automatically have the extra features enabled as discussed above.
This is just the first launch – so expect improvements and additions in the coming months!
Better Help & Support
You'll find a brand new 'Help & Support' menu item in your dashboard with quick links to our user guides and support posts.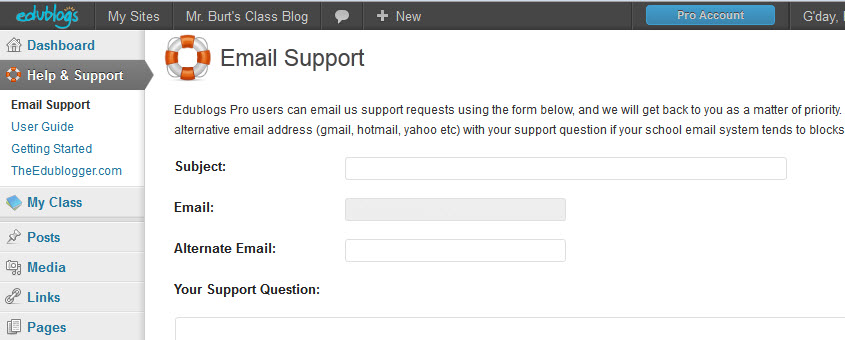 There's also an easier to find link for our Pro users to email questions directly to our support staff.
New Theme Customizer
Go to Appearance > Themes and check out the new 'Customize' link.
From here you can quickly edit the look and feel of your blog's title, background, and custom images and see how it looks live in real time. This addition is just plain fun to play with :)
And Tons More…
There are lots of other new features and changes you may notice. For example:
An improved and simplified image and media uploader
A fresh new look to the dashboard and top admin bar
Flyout menus that keep the menu items nice and neat
Better usability on tablets and mobile devices (no app needed!)
An improved 'Inactive Widgets' area to save widgets and so widgets don't get lost when changing themes
Embed tweets into any post by just pasting in the link
Behind the scenes changes to improve speed
All of this is available now on Edublogs.org and will be coming soon to our Edublogs Campus networks.
Leave a comment below or contact us with any feedback or questions you may have.
Happy blogging!