Sending an automatic email to your blog's visitors with each new post is a powerful way to reach them.
And today, we are rolling out new and improved email subscription to help you grow and maintain your followers.
All of this is live now for our Pro blogs on Edublogs.org and will soon be available on our Edublogs Campus networks too!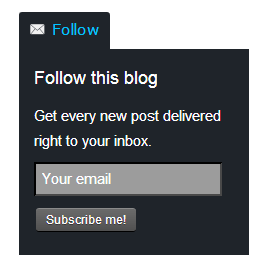 What's new?
Choose from immediate, daily, or weekly emails

Import subscribers with a CSV file
See a list of your subscribers to know who's getting the emails
A nifty Follow button like the one above
Export a list of all subscribers
Getting Started
1. Head over to the Subscriptions > Settings in your blog's dashboard.
2. Check the different options to personalize the emails that are sent out. You really won't have to make any changes, but if you'd like the "Follow" button to show, enable it here.
3. Go to Appearance > Widgets and add the Email Subscription widget to a sidebar. This will give your visitors an easy way to subscribe themselves.
4. That's it! You can manage and see a list of your subscribers at Subscriptions > Subscribers.
Tips and Ideas
For class blogs, add all students and parents as email subscribers with one one click using the new import tool (Subscriptions > Add Subscribers) to ensure they are all getting updates.
If you post a ton, change over to daily or weekly digests so that your followers don't get bombarded with loads of emails.
We're hopeful that these improved tools will only increase the communication abilities that blogs provide.
If you need any help getting started, contact our support team and we'll get you fixed up!
Happy blogging!