We're excited, and we think you will be too!
If you click on the Community tab at the top of the Edublogs home page, you're now taken to our new community area.
What's in our new community?
Our new communiy area is designed as a place to collaborate, share blogs and resources including:
Latest posts for our Edublogs News blog
The Blogs Directory
Our Curriculum Corner
The Blogs Directory
Already with hundreds of blogs of all types from all over the world.
What makes this directory unique is that you can easily see the latest three posts and a preview thumbnail of the blog.
Now you can easily check out how others are using their edublogs while connecting with other teacher and student bloggers…
And don't forget to add your blog to the directory as well!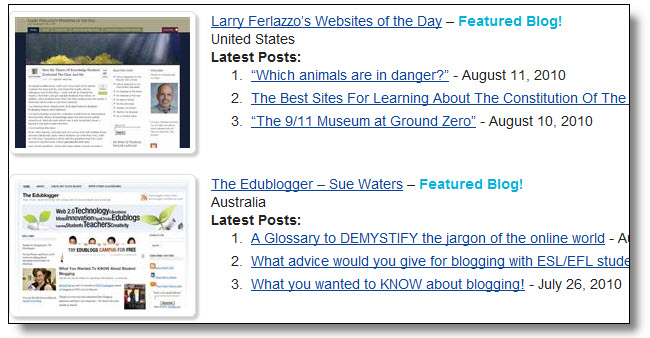 Our Curriculum Corner
This new section of the Edublogs website contains pages of useful tips and resources about using blogs with students in the classroom.
With that, we need you!
There is so much knowledge and experience out there and we welcome all ideas.
Leave a comment on this post, or complete the forms on each page of the curriculum corner, if you have anything you would like to share.
Please explore!
Have a look around and let us know what you think.
Our goal is to make this space a useful resource that will help teachers and instructors maximize the potential of using blogs in the classroom.