We've got some big plans for Edublogs.org for 2010 — including cool new features.
So to kick start the New Year we've just installed these new features on Edublogs!
Add New Users
This is a nice simple feature, but very powerful tool for creating and adding new users to your blog in batches of up to 15 users.
This is the fastest way to add students quickly to your class blog — if they don't have a username.
Off course this means there's now four tools that create usernames slightly differently so here's a quick summary of their differences.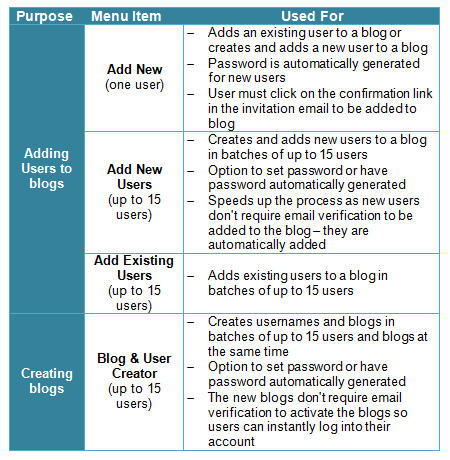 Limiting who see comments in dashboard
You told us you didn't want students who are contributors or authors seeing unapproved or spam comments — to prevent younger students from seeing inappropriate comments.
So we've:
Removed the Recent Comments module from the dashboard of contributors and authors
Made it so they can only see approved comments on their comments page
Now they can't see any comment until you've approved it!
Giving Contributors ability to upload media
You want to moderate all student posts by making them a contributor but that's been annoying you because contributors can't upload media such as images, videos….

Problem solved!
We've adjusted the role of contributors so they can now upload their own media and you can review their posts before publishing them!
My Blogs
Sick of the endless searching for your students dashboard on your My Blogs page?
We heard your pain….and transformed your one column into four!

Clicking That Pesky File URL
Been caught out by remembering to click on File URL before Insert into Post when you've been uploading audio, video etc files to your posts?
Yes it's driven us crazy too so we've done a quick patch to solve the problem….now you don't need to remember as it does it for you!
Free Trial Of Edublogs Campus
Heaps of schools, districts and Universities are taking advantage of our 30 Day free trial of Edublogs Campus, get in touch with us any time to start yours!