There are only a few days left to vote in the 2010 Edublog Awards, and we wanted to take this opportunity to let you know why you should both vote and visit the Edublog Award site: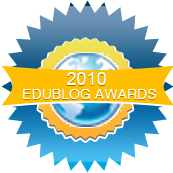 Plus much more!
This week in the Edublog world
Want to share a post, ask others to visit a blog for comments, or show off cool student work?
Use the hashtag #ebshare to let us know so we can re-tweet it for you!
Featured Edublog of the Week
| | |
| --- | --- |
| | reflections on teaching and learning through technology |
Find more great blogs like this one in our International Edublogs Directory.
Upcoming Webinars & Live Events
Join us for next week's live events!
Wednesday the 15th @ 9:30am PST – What can you do with your Edublog!?
An informal chat where any of your blogging questions can be answered by our staff.
Thursday the 16th @ 4pm PST – Edublogs Fine Focus
Join us for our fortnightly "Fine Focus" sessions each week. In these sessions we range across a variety of topics and include discussion ("Talk Time"), how to use various applications ("Techie How To"), and using technology in the classroom ("Tools and Strategies"). In fact anything "e-" that is of interest to educators!
Learn more about our live events here!
Summing it up
Don't forget to vote for your favorite nominees and come listen to the award ceremony – LIVE!
Winners will be announced at the live awards ceremony on Wednesday the 15th of December at 7pm EST USA!