Today, Friday the 15th of October, is Blog Action Day where bloggers from around the world write about one topic to raise awareness and help drive change through collaboration.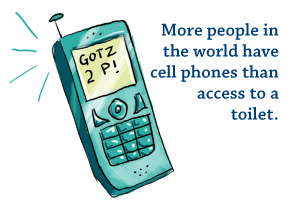 This year, the topic is water – providing access to clean and safe drinking water to the nearly 1 billion people around the world that are currently without it. Facts from the official blog action day website point out that pollution, irrigation, poor infrastructure, and inefficiencies all contribute to the problems at hand.  In addition, as much as 10% of illnesses and disease could potentially be eliminated just by having access to healthy water.
It is definitely not too late to contribute posts and comments from students and teachers alike.
We've scoured the Edublogs site to look for student and educator blogs that are participating in Blog Action Day.  The day isn't over, but as of the time this post was published, there looks to be hundreds of posts just on Edublogs.org blogs alone!
Here is a list of posts on water found on Edublogs that you might want to visit:
If you don't see you post here, please leave a comment below with a link so that we can all share!
Top #ebshare tweets from the week:
Want to share a post, ask others to visit a blog for comments, or show off cool student work? Use the hashtag #ebshare to let us know so we can re-tweet it for you!
Featured Edublog of the Week
FULL of excellent tech resources! From an Edublogs Campus site.

Technology Integration Blog – Pennsylvania, USA
Find more great blogs like this one in our International Edublogs Directory.
Summing it up
It is collaboration and community that shows the real power of blogging. Blog Action Day is a great opportunity for students and educators to blog right alongside professional bloggers and organizations from around the world.
Don't forget to share your favorite posts from Blog Action Day below!